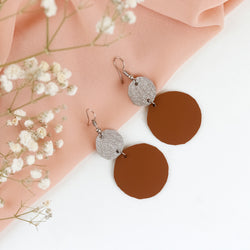 Lá mode BD
Ear001
As part of our sustainability goal, we are making most out of our material. To reduce waste we are making handmade earrings from remaining leathers that were left after production.
This also makes our earrings one of a kind!
Support our sustainability goal by making these earrings a part of your wardrobe.
PRODUCT DETAILS:
Material: Faux leather
PRODUCT CARE NOTE:
Store in a dry environment to avoid scratches or dents by other items.